According to my sisters, my mother in 1965 feels exhausted keeping five children in the house at 435 N. Elmwood Ave.  She is depressed and already an addict, but persuades my father to seek a simpler house in which to manage her energetic brood of five Bendelow children. They select this modest four-bedroom place at 1022 South Scoville:
My oldest sister
At this time, my oldest sister Susan Diane ("Sue") is just entering OPRFHS high school, which she does after graduating from the north side Beye Elementary public school.
Given what I know of the socio-economic divide of Oak Park in retrospect, and human development now, this move must have be fraught for Sue. Her entire friend group has been cultivated on the comparatively "upper class" north side of town, where Frank Lloyd Wright, Edgar Rice Burroughs, Ernest Hemingway, and anyone who was anybody lived in our village's storied history. The north side was the prestigious side, not the south side, especially the area south of the Expressway where "lower class" blue collar workers have their homes, and now so do we.
Without being consulted in the matter, and at a critical time in her development as a person, Sue finds herself socially demoted by her parents' surprising move.
Oak Park's north side is where she has grown up, and where the finest homes and the most influential families are. It's the site of the 19th Century Women's Club, the main business district, and the town's historical sites.
If she still lived there as a ninth grader, my big sister would have been walking from our house to OPRFHS with her neighborhood friends, Pam and Paige. An attractive brunette, Sue would have had built-in status coming to the school from the lovely streets of the historical district.
Instead, she has to commute to high school via bus or a drive from our still somewhat-competent mother. I believe this rupture in Sue's former orderly and pleasant world traumatized her.
In my small boy's recollection of her at this time, Sue as the eldest has parental authority over the house, but she is a serious and cold person to me. When she is angry at my behavior, she digs her pincer-like fingernails into the flesh of my arm.
Her violent behavior and unhappy affect may well be understood as the result of what she was undergoing at this time: an unwarranted and sudden sense of social loss for something outside her control. No wonder she had little patience, and wanted to punish me for my five-year-old brattish behavior when she was fourteen!
In 1965, Sue is starting high school as a traumatized, displaced person. 
Early lessons about class
At OPRFHS, home of the "DOOPer," Sue will learn that a student either hails from the relatively affluent north-central areas of the village, or from the "lesser than" neighborhoods of the south and northeast edges of the town.
This class divide is something I meet for the first time in fourth grade when Peewee football reveals the Oak Park caste system. 
Sensibly enough, the teams in the Oak Park-River Forest Peewee League are geographically separated. There is one team for the north side, one the center of town, and one for my south side. The boys in each zone can travel easily to practice at a neighborhood park. There is thus equity of access in the League. But the team mascots suggest discrimination on the basis of social class.
Posh River Forest has its "Foresters," their deep green uniforms evoking old growth and prestige. The north side of Oak Park has its "Oaks" in navy blue like the Chicago Bears and Fighting Illini. The oak is the strong, towering tree that shades the broad lawns and stately homes on the north side of town. The central zone, with bright red jerseys, has the region's most beautiful bird (and the name of a Chicago professional team) as its mascot, the "Cardinals." The Cardinals were perennial powerhouses, with the superb running back Kurt Amen (his father a Cardinal coach) dominating the league.
By contrast, my area, south of the expressway has a team with the pale blue and white motif of the distant Baltimore Colts for its colors. It has the throw-away name "Parkers," which doesn't refer to anything positive or fearsome. There couldn't be a more off-hand moniker for a group of boys deserving a worthy name.
One imagines the league's north side founders in one of their lounges, deciding over cigars and fine bourbon:
"OK, we've got the Foresters, the Oaks and the Cardinals. What do we call the kids from the other side of the expressway?"
One of them jokes, "the Hooligans?" Chuckles ensue.
"No, seriously, now, we've got to call them something," a voice of reason returns the gentlemen to their last remaining agenda item.
"Well, maybe 'Parkers,' since they're from Oak Park, too," one finally offers.
"Yeah, that'll do for them. Parkers. It sort of sounds like the hated Green Bay Packers when you say it fast." More chuckles and sighs of satisfaction.
Through PeeWee football from 1970-73, I start understanding how addresses can communicate status. I learn that just as there are better and worse cars in American society (the Cadillac and Lincoln are supreme, and any new cars are superior to old, beaten-up ones) there are also better and worse neighborhoods.
The corollary I internalize is that if you're not in a better one, there must be something wrong with you. The lesson would be perfected for me freshman year at OPRFHS, a story I'll take up later.
Now back to my older sisters.
A mother to me and my closest siblings
My second-oldest sister, Sharon Jean ("Sharon") is around 11 years old at the time of the move. As such, she is just starting to come into her own as a person, and enters Washington Irving School as a gregarious, attractive fifth-grader. She quickly adopts a best friend from across the alley, Deborah Smith, and will go on to develop a close relationship with David Brown, who turns out to be her "forever" best friend. He lives next to Rehm Park on Gunderson's east side.
Sharon's bright, inquisitive nature makes many friends, but she is especially close to Debby Smith and David Brown.
David's younger brother Michael and I will become good friends by sixth grade. He is a year older than me, but we share a passion for sports and subversive culture that only high school will break up, when our interests diverge.
I fondly recall Friday night sleepovers in his front room, where we could watch a black and white western, eat popcorn, drink pop, and maybe put some pop records on his phonograph.
In 2022, Michael tells me that he doesn't remember doing much about my home, but once he was "scared shitless" by the seizure that he witnessed my mother having in our kitchen.
For me in 1969, the Browns are the most interesting family in the neighborhood. Their famnous father, Roy Brown, is rarely home, but his presence is huge. And its huge in all Chicagoland. That's because his job each day is to portray Cookie the Clown on WGN's Bozo Show, the mid-day show for kids in Chicagoland during the 60s and 70s.
Roy is a creative man, a puppeteer who was also into slot car racing. His vast basement diorama with functioning cars speeding across it was an exhiliarating marvel to me, and I enjoyed visiting their house when I was Michael's friend, until approximately 1973.
Roy Brown, the happy, creative clown, was in reality a troubled, if functional, alcoholic, and his alienated, creative son David finds the house of Roy acrimonious and often hostile, probably the reason that David, in my memories of the Scoville house, is often present, or nearby.
In the picture above, you can see David (center) and his partner Richard (right) at a 2022 reunion dinner with my family during the run of Moulin Rouge at the Nederlander Theater. My sister Sharon sits next to David, and standing next to me are my sister Sarah and wife Girija. We are each feeling happy that we have survived and even thrived after our inauspicious beginnings.
But back to 1968 and 69. Who is taking care of things at the South Scoville house? It is not my mother, Patty. Between stints in psych wards, she will retreat for days into a deep chemical fog in her bedroom, inaccessible to her children.
Into the motherless void that grows in the wake of Patty's increasing drug dependency steps Sharon, who becomes a very loving mother-figure for me and my siblings, Sheila and Sarah. It is Sharon, not oldest sister Sue, who in mom's absence assumes the maternal roles of preparing meals and looking after basic needs. Sharon grows into an accomplished chef who takes some pride in her creations, and her son David will by 2022 become an esteemed professional chef in his own right. Coincidence?
It was Sharon, not Sue, who came up with imaginative games to entertain me and my sisters. She instigates hours-long fantasy narratives of struggles with, and magical protections against, a villainess she creates: "The Witch of Eagle Seegal." Sharon recounts thrilling back stories, and when she gets to the wicked witch's boast, her voice gets high and piercing: "I am the Witch of Eee-ee-gle See-ee-gal!" she menaces us, but her characterization is reassuringly comic. Sharon's imaginary terrors serve, I think, to make the real ones in the house less terrifying.
Eldest sister Sue and Sharon share a bedroom, and it is in this bedroom closet that all the children cower one day in 1966 or 67, when my mother in her insanity is trying end her suffering by killing her children with a butcher knife. According to my older sisters (neither Sarah nor I recall the incident in 2020, when we hear of it), it is only my mother's shouted threats and curses at us, heard by next-door neighbor Mrs. Aiken, that brings the police to our door and an end to our mortal terror.
Since Sharon is the "safe," nurturing older sibling in the house, it is natural that the younger children seek refuge with her.
Here we are all together around the time of the move:
The start of a series of painful learning
My earliest recollection of the Scoville house occurs when we are not even moved in yet. I am five and my sisters and I are touring the property with the older girl from across the alley, Debby Smith, Sharon's peer and soon-to-be best friend, explores the backyard with us. The small space has some nice features in it: a pear tree that gives copious fruit, and a cherry tree with smooth skin that invites climbing up into it. I will spend many hours up that cherry tree, looking afar, able to see all the way into Rehm Park when I need as escape. It's one of the places I go when I feel oppressed by what's happening in the house. For a bit of time, at least, I can "get above it all" in the boughs of the cherry tree.
Debby Smith is an energetic and friendly only-child. On this day, she sparks my bold willingness to try new things (something that in high school takes me into a foreign exchange, and in college into psychedelics), and in doing so provides a real trauma for my body and mind.
"Here," she says on this pleasant, sunny day. "Check out this tightrope!"
She points to a rope that stretches from the back porch to the garage. "You could walk on this rope like the tightrope walkers in the circus!"
And that's all the encouragement my mind needs. Soon I am clambering up the railing on the porch, a good 12-16 feet over the cold concrete basement steps, and onto the wobbly rope. I don't get a second step on it. Instead I plunge down, my tibias striking hard on the concrete, my breath knocked out of me, and pain shooting up and down my shins and ankles.
It is the most intense physical pain I have consciously experienced up until this point, and it happens as we are about to enter the new dwelling.
Besides the physical pain, I am overcome with psychological shock and a sense of deep betrayal: this is a nice girl, my sister's friend, and she deliberately put me into danger!
In a way, both of these themes–pain and a sense of betrayal–will continue through the remainder of my time–ten more years–at 1022 Scoville.
You are a social creature
After this move comes my first experience of an awakening social sense, the feeling of being a separate person, but someone also somehow meant to interact/collaborate with my fellows. The scene is inside the Barrie Park District center
on Lombard street. I am attending a half-day preschool session.
The supervisors have let the students in their charge wander and interact. And as the drama starts, I am contentedly playing by myself with some ball or truck, and noticing the faux balcony at one end of the large playroom, perhaps imagining who might step out on it.
Soon enough, however, my attention during this free time is drawn to the other children in the room. I notice that most all of them have paired off, unlike me. They are talking with each other, while I am alone. The incongruity of my behavior strikes my consciousness, and all at once my five-year old brain thinks, "you should be doing that, too, talking with somebody else."
Instinctively, I know that what I say is of less import than that I say something, anything, to another. The talking is the thing. I instinctively know my next task: to weave my self safely into the social fabric around me.
I go up to the first unattached other I see, and start talking.
Where did my thought come from? What provoked the impulse to walk up to a random fellow child and engage in talk? It must have been the ancient instinct for human society, a genetic imperative asserting itself on my preschool self.
"Andrew," it seemed to tell me, "you are a social creature. Go and be with someone, and you will be safe."
Routines and chores at the Scoville House
By the time I am a conscious member of the family–at age five, when the move happened–I am able to appreciate how days and weeks in my family have signposts that mark time and give me comfort. Since routines impose regularity on chaos, and there is plenty of chaos in my house, I do not chafe against them, but actually look forward to the dependable occurrences.
Weekday mornings are chaotic, as siblings wake, clean up, dress themselves, feed themselves breakfast, and get out of the door to schools. But weekday evenings have a set dinner time that corresponds with the time my father comes home–around 5:30 or 6:00. In all kinds of weather, he can be seen in his suit, tie, and briefcase walking home through Rehm Park from the Congress subway stop at East Avenue.
My mother, in my recollection, stops preparing dinner regularly by 1967. That's when my sister Sharon begins taking on the task for herself. We learn to wash our hands before dinner, and everyone sits down around the kitchen table, with my father at one end, me on his immediate right, then Sarah, Sheila, Sharon and Sue directly across from me.
Dad says a prayer and we all bow our heads and fold our hands: "Dear Lord Jesus, thank you for this food. Please bless it to our body's use. In Jesus's name, Amen." And we all chorus a response: "Amen!"
Dad likes to hear from Sue what she's been up to that day. Many dinner-table conversations are really a dialog, in my recollection, between him and his oldest daughter, now a student at his alma mater, OPRFHS. I can recall one discussion they have, in which she is troubled by the school policy that says that if she is discovered by police at a party where marijuana is being smoked, she will be held liable, even if she is unaware of its happening. It doesn't seem fair to her. My father dismisses her concerns, telling her that there is nothing wrong with the policy: she should be careful about the parties she attends.
After the meal, but before the dishes, my dad will have a cup of instant coffee and he'll light up a Belair menthol cigarette.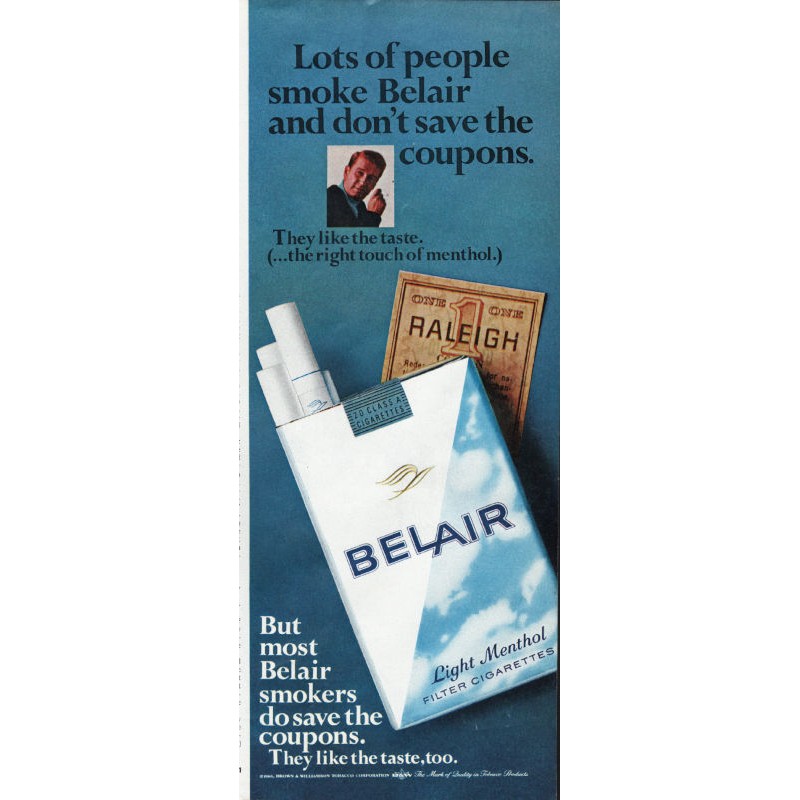 No one leaves the table, because now comes what my father would call the most important of his functions: grounding his children in the word of God. His current favorite translation is this one, a New Testament published in 1966: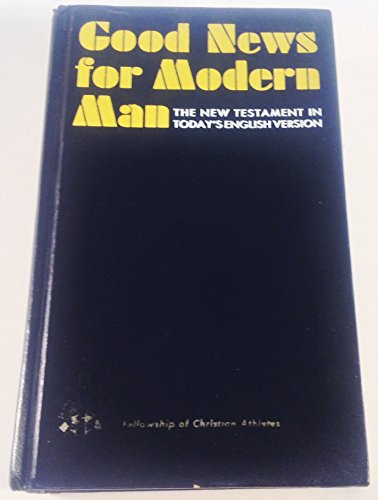 Dad will choose a New Testament book like the Acts of the Apostles, or one of the epistles of St. Paul, and read a chapter aloud to us before expounding on its truths. So over the course of two or three weeks, we finish one book and are ready for another. This reading takes no more than five minutes. And after he's done there might be questions from us. I don't think he ever questions us, but I'll be interested in hearing my sisters' recollections.
The Bible-reading and discussion is a ten-minute imposition at the most on my after-dinner plans, and I resent it. But I also appreciate having this regular communication access to my father and sisters–even if no one is talking much to me, I've got a regular seat at the table with the important people in my world, and am privy to all their conversations. Routinely, I am made to feel a part of things, and this is reassuring.
After dinner, a child is free to go off to whatever, unless it is his/her "night." Each of us has an assigned night on which to clean up the kitchen, put leftovers away, and clean and rinse the dishes.
I remember this duty being accepted by all my sisters. I think that at first, Sarah and I ("the little ones") may have shared our night, because we could have scarcely reached the counter before age five or so.
My father's character has been formed by his task-master mother, by team athletics, and by the US Marines. He conveys his value for the disciplined fulfillment of duties to us through dish night and also Saturday morning chores. I am grateful now that he expected us to do our parts, because in accepting his yokes, I grew stronger and more capable.
My first exposure to cleaning is pleasant. I am captivated by the magic of dish detergent–the way its suds exponentially spread, its citrusy perfume, the way it gets all the surfaces squeaky clean, and how it transforms my fingertips to wrinkled contours. It is liquid technology with reliable results, and it's safe.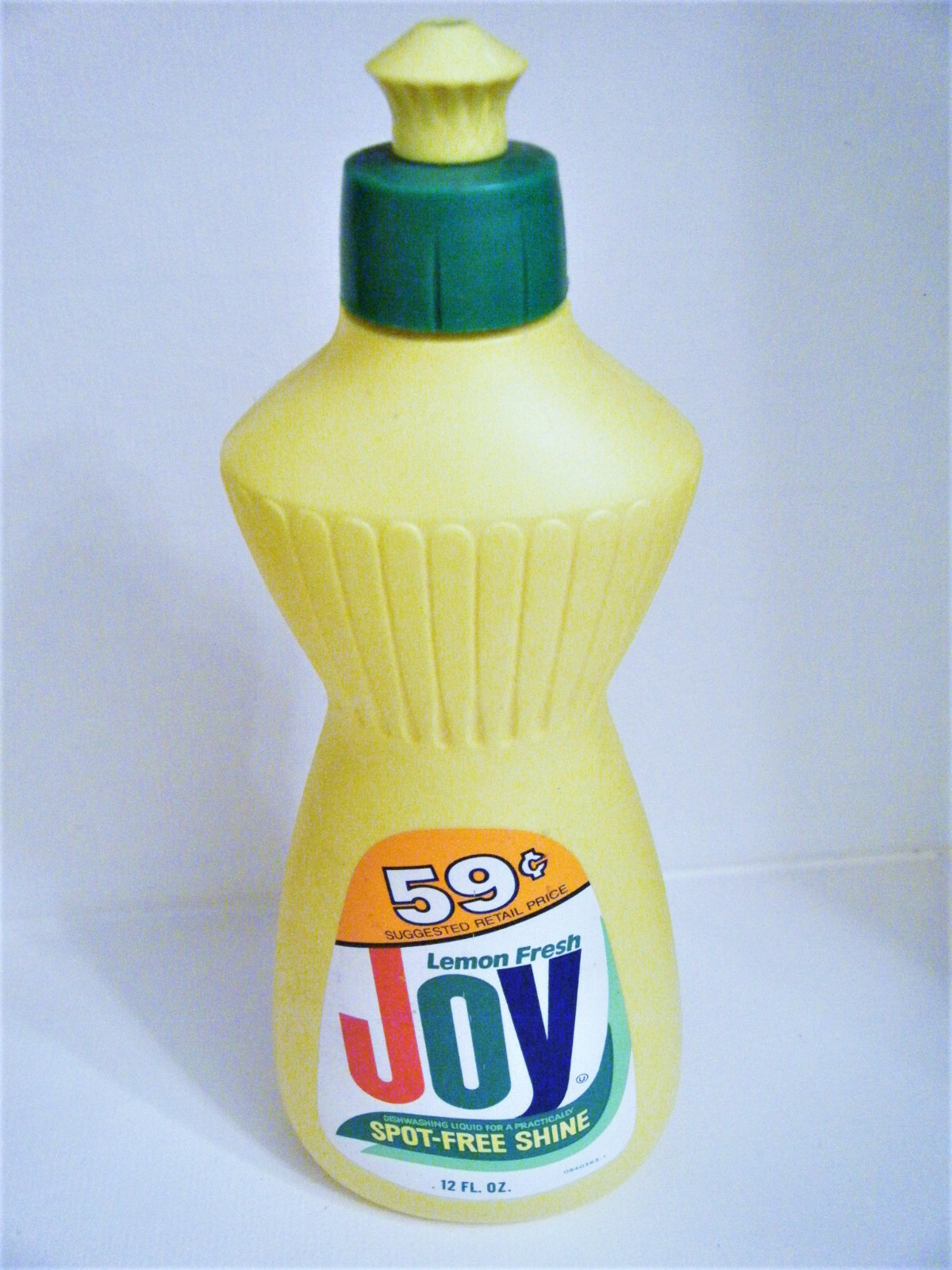 Another huge plus for my dish night is the Zenith radio next to the sink. It gets tuned to whatever station I want to listen to (dishwasher's choice). I go back and forth on my night between WLS-AM and WCFL-AM, letting the Top 40 hits energize my body and fire my imagination as I complete an important task for the people closest to me. I get to use cool stuff, hear the latest hits, and do something "grown up."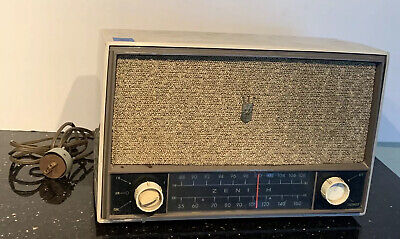 In my mind, cleaning will forever escape the negative associations most of my peers hold with it. And a couple decades later, I will start a cleaning business that helps support my bourgeoning family, and continue to enjoy the dramatic before and after of cleaning, especially when accompanied by my private, curated audio.
Saturdays, the Bendelow children are each obliged to do their chores in the morning before going off with their friends and activities, and before receiving their allowance(s). These tasks include cleaning our rooms, making our beds, and perhaps cleaning one of the bathrooms, sweeping the basement, or vacuuming the carpets (no small task since we've wall-to-wall beige carpeting).
Our most significant other routine is Sunday morning church services at Woodside Bible Chapel in Maywood. My home is one of the only non-Roman Catholic families in the neighborhood, and we drive faithfully–originally as an entire family, but eventually without mom–to the morning services at Woodside. The kids attend a general Sunday School at which group songs are sung and "Sword Drills" are run (Bible-search contests), and then each of us attends age-specific classes. Sunday school has a comprehensive curriculum designed to nurture the next generation of Bible-believing Christian citizens.
Although I envy my Roman Catholic friends for their relatively un-complicated faith, and am occasionally embarrassed to be seen driving to church when my buddies (who have been able to attend mass on Saturday evening and free up their Sundays) observe me and my family trudging off to church while they're having fun, I do appreciate the routine of church attendance, and will continue into my mid teens, driving myself to the evening services and Teen Club. The normalcy of the routine, and the bland repetition of the community functions comfort me.
At the end of each day, if my mother is somewhat sober, comes the last of my cherished routines: the bedtime prayer.
Mom, in my recollection, comes into the room adjacent to mine, where my sisters Sheila and Sarah have a bunkbed, and I join them there. It is around 9 or 9:30 pm. Mom leads us in a repeat-after-me prayer that expresses what is on her heart at the end of another long day: "Dear Lord Jesus, thank You for this day," ("thank You for this day…").
"And thank You that we could learn and grow and play" ("and learn and grow and play…").
"And Jesus, please help President Johnson to bomb Hanoi so that the war can end" ("and please help President Johnson…")
She wants us to feel connected to the universe, and she is doing it the best way she knows in 1967.
Finding sanctuary in the Scoville house
Just as I feel driven to find safety in a social group at preschool, I become adept at finding safe spaces in and around my house. Because I live in a volatile family, where tempers explode, mean things get said, and corporal punishment can be enacted at any moment, I get very good at finding safe spaces to escape to when things get too unpleasant.
If the weather is fine, I can scamper up the cherry tree in the back yard and look away across the distance, imagining my self in the topmasts of some tall ship, sailing away to a peaceful shore, or just communing with the birds and bugs and listening to the sounds of the neighborhood, the shouts of kids in Rehm Park, the steady hum of traffic on the Eisenhower Expressway.
Or I can walk south down Scoville about six houses to the west side of the street where an old woman lives. It is well-known to kids on the block that she will give you free animal crackers (cookies) if you knock on her front door. She won't bother you with conversation, but distributes the cookies wordlessly through her mail slot. It is nice to get this little treat from a strange, but kind other. In contrast to my sister Sue's pincer grips, this regular compassion reminds me that order and kindness exist outside the house.
I can also get on my bike–a Schwinn pixie inherited from my sisters–and ride around the neighborhood. Looking back, this physical exercise must have dissipated some of the cortisol or stress chemicals in my bloodstream provoked from the excitement at home, and while riding I may encounter a school mate who will invite me to some diverting play or adventure.
If, however, the weather is bad and I need to stay in the house, there are two "go-to" safe spaces: 1) the book nook underneath the baby grand, and 2) the perch in front of the black and white television in the basement.
The front room is dominated by the piano. It has bookshelves around its perimeter underneath windows. Among old books from the 1800s on Christian theology (at least one of which had my namesake's inscription in the front leaf–"Andrew Gibson," it read, "Dalmellington, 1878") there were modern novels my parents had read (including, shockingly, John Updike's Couples) and some children's Bible story books. I quickly grow bored with these last, but two special finds, Mallory's Le Morte d'Arthur and an edition of Poe's Collected Works, powerfully influence me.
In my beginning reader's brain, I intuitively understood that the story of my family, with depression and substance abuse driving the drama, was unhealthy and inappropriate, and these books presented me with societies that were beautiful and orderly, far removed from the chaotic, painful world around me. Unlike the Bible stories, these books showed me places in the real world where justice prevailed and humans escaped their loneliness in special fellowship.
I was drawn to the chivalrous tales in The Morte D'Arthur where Justice and Love (often in severe, even frightening forms) prevailed. I experienced a feeling of profound ease and contentment at the end of these stories. It felt after a session with these stories, like I had prayed to true Gods. I felt steadier, and ready to face another day, as Sir Galahad was to struggle with his foes.
Many was the morning I'd walk to Irving School under the spell of this book, and if I found a tree branch that would serve, I'd pick it up and fight imaginary knights in trees and street lamps, and arrive at school feeling my just reward was earned.
The other book, Poe's Complete Works (Collier's 1927 ed.) was an admission into the secular world of literature for me, a world very far removed from the evangelical Christian world of my Grandmothers and all churches that I'd experienced. In my retrospect, this edition of Poe's work–all the poems, tales, essays, and criticisms laid out on the same sort of onion-skin pages that our King James Version possessed–represented a counter-Bible, or and anti-Holy Scripture for me. Its fantastical poems and bloody detective stories (I never got to the essays and criticisms til much later) were evidence to me of a more realistic universe–one that felt more grounded and plausible, as fanciful and other-worldly as they were–than the ones I read in the Old Testament or learned about at Sunday School.
Also, without anyone prompting me, I began reading aloud his "Annabel Lee," "The Bells," and "El Dorado" and marveling at their music. When read silently, they seemed incomplete somehow. And when I heard the way the rhythms and rhymes in my own ears, I felt satisfied.
Thus began my life-long enjoyment of poetry
And thus began my long journey into books and writing, which took me through degrees in composition and literature and formed the basis of a 36 year career as an English teacher.
In retrospect it seems providential that I would connect with those two books in that specific library, almost as if God had sent them to a poor boy to ease his mind and give him mental distance from the craziness surrounding him, just when he needed it.
Another admission into the secular world for me, and another reliable escape from my family's chaos, came through one of our black-and-white televisions. This magical Zenith took about a half a minute to warm up, but once illuminated, it fed me with news and entertainment from the great world (albeit a very American world) beyond the house on Scoville.
Because it was so simple to operate, and there were so few channels to explore, this medium was something I quickly mastered by age seven. And through the medium of TV, I became informed in ways that school or family or friends could never have educated me. Through the few networks that existed in 1965-68, I went beyond my neighborhood and into the "real world."
For instance, my natural feeling of loneliness was assuaged by the feeling of belonging TV fostered in me–through the war stories and patriotic films that showed me what "American" was, I understood that I was part of a large, proud community, and I began to identify myself with it and find the local and national news and sports coverage personally meaningful. I accepted that America was the best place on the planet, that Chicago was its best city, and that the Cubs, Bears, Bulls and Blackhawks were the only teams that mattered.
The local and national news made me aware of social conflict. And when I got the joke that a stand-up comedian on Johnny Carson's "Tonight" show made, it was because I understood the characters and contexts. As attenuated and impersonal as it may have been, in show after show, I found a sense of connection, of belonging.
Looking up at that black and white TV from a chair in my suburban basement, I may have been a lone seven year old, but I felt comfortably part of things, "hip," entirely in touch with the modern world. It was a feeling I grew to love and crave.
On some unstructured days of summer, or winter break, I would watch the TV from the 5 am sign-on and the WGN-TV (Channel 9) farm reports to the sign-off after midnight. Here is a list of what my mind fed each morning, chronologically, with notes on remarkable aspects.
5-7 am: news, farm reports, and "Daily meditations"–broadcasters in the 60s had an obligation to attend, however generically and vaguely, to the morality and ethical character of their audiences. So the broadcast day was bounded by these five-minute programs
7 am: Ray Raynor and Friends–another place where Roy Brown's art design flourished. Ray was a goofy adult in a jumpsuit who played with a duck, told simple jokes and delivered watered-down news and sports reports between cartoon segments. In between the entertainment were entertaining commercials designed to get me excited about colorful breakfast cereals that I could urge my parents to buy, including Trix:
8 am: Captain Kangaroo or Romper Room–the captain was a shinier, national version of Raynor, with a different stable of characters and cartoons. Most of the cartoons on these shows, like Loony Toons, Mighty Mouse, Ben and Jerry, and the Roadrunner vs. Wile E. Coyote, featured a conflict between protagonists resolved by violence. This had a strong appeal to me. And the special packages would contain build-your-own jet fighters, which would allow me to imagine resolving conflict using ColdWar technology. Romper Room was a comparatively boring session designed to teach pre-school age children the norms of school.
9-11 am: situation comedies and game shows–among these, my favorites were "Lucy," in which Lucille Ball would get into, and then out of serious problems with lots of laughs; "The Beverly Hillbillies," featuring a full family of foolish people against which my family seemed normal; "The Andy Griffith Show," where the kindest man and father on TV helped the town of Mayberry and his son, Opie, adjust to the modern world; "Bewitched," featuring a suburban couple whose lives are perpetually fouled-up, and then fixed, by the wife's witch powers; and "The Dick Van Dyke Show," which showed another suburban couple negotiating the difficulties of marriage and a high-powered career. The game shows I enjoyed were "Jeopardy," "Let's Make a Deal," and "Hollywood Squares." This last was a favorite of my mother's, especially the witty repartee of Paul Lynde. I didn't get the double entendres she did, but enjoyed the celebrity impressions of mimic Rich Little.
11-noon: the soap operas begin–here is where my interest lagged. Except for a later period when I found the macabre "Dark Shadows" intriguing, the adult melodrama of shows like "Days of Our Lives," "General Hospital," and "Love of Life" held nothing for me. Around this time of day, I'd probably get hungry, and go up the stairs to the kitchen, where I could make a quick peanut butter and jelly sandwich on Wonder Bread. Then I'd return for "Bozo's Circus," which every kid in Chicagoland also did, but in my house, we had a special connection to the show, and that felt good to me. It would be the first of many cultural reference points that I'd appropriate to myself for solace and self-assurance.
Burning down the house, almost
In the year 1967 or 68, I am of an age to start playing with matches, which are abundant in a kitchen where my father is a smoker, and the gas range pilot lights need to be reignited regularly.
On this summer day, I am entirely unsupervised. My father is probably at work, mother in alcoholic bliss in the bedroom upstairs. I am fascinated by the properties of burning things, and have burned some small pieces of paper in the kitchen, and put the remains in the sink, much to the amazement of my younger sister Sarah, whom I am determined to entertain on this day with my new-found, Promethean powers.
When paper scraps get boring, I decide it might be interesting to see if other things burn. Let's see what else might burn in the cupboards: ah, yes, spaghetti noodles!
They are so long, like big matches. I discover that when illuminated, they burn steadily all the way down to where your fingers hold the noodle. I demonstrate this to Sarah and throw a still-burning noodle into the trash bin, which lies next to the stove and directly under some cabinets.
In a little while, the entire trash bin is aflame and resisting my attempts to douse it with cups of water from the sink. Sarah runs up and wakens my mom, who comes down screaming and, in my recollection, attempts to put out the flames with a bottle of vodka.
It doesn't work, and the kitchen cabinets are now smoldering, the plastic tiles on the wall have melted, and overpowering smoke fills the room.
Somehow, the fire department is alerted, and fortunately for us, we are but a two-block trip for the fire fighters. They succeed in extinguishing the blaze before it spreads to the rest of the house, but I am not there to see it.
I have fled up to my bedroom and buried myself in covers, feeling the most excruciating guilt and remorse of my young life.
Hours later, my father returns from work and, seeing my abject misery at almost destroying our home, does not make me feel worse.
A well-situated home for kids
1022 South Scoville is well-positioned for a home with several kids, just down the block from the newly renovated Rehm Park, originally plotted by the famous landscape architect Jens Jensen.
The 1966 renovations in the park include a large playground that, along with swings, sand spaces, and climbing apparati, has a child-size hand-crank railroad. Here is a picture of what it looks like:
It also has a Jack Barclay and Associates public swimming pool, complete with a "baby pool" and an Olympic-qualifying diving platform.
When this structure was dedicated on Memorial Day, 1967, my across-the-alley buddy Kevin Osborn and I are selected to be photographed on the cover of the Oak Leaves with our little hands over our hearts. Very much in the spirit of patriotism that supported the war in Vietnam, we are looking up in the company of saluting soldiers and a sailor at the US flag.
My relationship with what the flag represents, our democratic republic, with all of its promise and moral compromise, will occupy my political thinking in the years ahead. My stances will shift an impressive distance, going from narrow conservatism to open-hearted liberalism in the space of ten years. But that is all in the future as I stand looking up with an amused smile at my flag.
The little boy who stands next to me, Kevin Osborn, went on to infamy in a road-rage killing in Scottsdale, Arizona in 1991. He was scheduled for release in 2017.
The soldier nearest to me and Kevin, the one who reverently holds the flag with white gloves, is a Gunnery Sergeant in the United States Marine Corps, from which my dad was discharged honorably as a Staff Sergeant. Does that have anything to do with our being selected as the neighborhood boys to pose on the cover of the Oak Leaves, the most respected of the local papers? Perhaps.
But more likely, it is because the architect of Rehm Pool was family friend and fellow Plymouth Brethren Jack Barclay, and perhaps he asked my dad to volunteer his son (and whatever friends he'd made) to help with the photo opportunity.
I find it interesting that instead of dressing me in red, white, and blue, which would have been the conventional thing on Memorial Day, and also the colors Kevin's mother dressed him in, my mother dressed me in orange, brown, and green, which suggests something not-quite-patriotic. Was this color combination in style? Was she trying to send some sort of signal? Or was she just buzzed out of her mind?
I wish she were here to ask. But the fact is that since I was a ninth-grader working for Ed Radatz in OPRFHS's Pollution Control Center, I have been an ecologically minded person, and mom's color combination –more organic than patriotic–turns out to have been rather prophetic.
Another way to view this photo opp at Rehm Park is through the lens of the park's namesake, Colonel Arthur D. Rehm. Known as "the father of the Oak Park public parks system," Rehm returned from the Spanish-American War of American imperialism (1898), and settled on South Wisconsin Street in to raise his family. He rose to the rank of vice president of the Oak Park Trust and Savings Bank and was a treasurer of the village of Oak Park. And according to this reputable source, "he was a member of the park board for 28 years and its president for many years. Col. Rehm was past commander of the Spanish American War Veterans and of Oak Park post No. 615, of the American Legion, a member of the Veterans of Foreign Wars, a charter member of Harvard Congregational church and Circle Masonic lodge, a member of Siloam commandery of the Knights Templar, and president of the Oak Park Republican Club."
I find it remarkable that such a redoubtable, conservative namesake was connected to the place where I developed my social and physical abilities. After all, it was in the alleys and front porches and basement playrooms surrounding this park that I would first become a racist provocateur. But it was also here that I learn empathy for African-Americans and the scary-looking "weirdos" most people avoided. So it almost seems inevitable that in the years following, as my knowledge grew beyond parochial prejudices, I would repudiate Rehm's American exceptionalism and imperialism in the years after my maturity.
Sports make the man
Much of my growth as a member of society and an athlete would happen in and around this park.
On many summer days in the years 1967-76, the neighborhood boys and I play endless baseball and tennis matches in this park. In fact, we combine the two, playing long games of tennis-ball baseball on the courts at the park's southeast corner. If you hit it over the fence, it's a home run.
In the fall and winter, the boys and I play touch (sometimes) and (mostly) tackle football on the field south of the pool. On this field's alternately muddy and frozen turf, I both give and receive many contusions and cuts. But it is a healthy outlet for my aggressive energies.
In winter, the tennis courts is turned into an ice rink, and it is here, more than at the indoor rink at Ridgeland Commons park, that I hone my modest skating and hockey skills.
These athletic endeavors with the boys in my neighborhood–Kevin Osborn, Mike and Ricky Nevins, Michael Brown, Phil Tencate, Paul Terkl, Frank Fencl, Mike Cody, Terry McGovern, and my nemesis, Eugene White–do much to socialize me and provoke my physical development. Through the medium of something simple–games–growing males like me find it easier to connect for more serious discussions, like culture and history. In other words, sports are a doorway into social growth and learning for me.
But there is also a psychologically healing aspect to the sports I engage in, because when involved in an extended game, time seems to stand still for me, and I feel very much "in the moment." When focusing on the next play or trying to hit the right spot, no anxiety about my family, or worry about what has already happened can intrude. I and the game are one, and I experience the sweet relief of ego transcendence, if only for a while.
He's a lone rider
After I became adept at riding a bike (1967-68), I receive my first boys bike, a green Schwinn Stingray (1970-71). When I acquire this transportation vehicle, I also develop one of my first public personae, projecting an imagined self with which to negotiate society. Because of my fascination with American movie culture and pop culture (via the AM radio), I use the bike as a vehicle for one of my first imagined selves: a motorcycle cop keeping the bad guys at bay from my home turf.
When I am ten and eleven, I ride for hours on all its paths, on patrol in my imagination, wearing my hockey helmet to look like a Chicago cop, and mirror sunglasses like the Walking Boss Godfrey in Cool Hand Luke.
And on my Levi's jean jacket, I affix the en vogue "Keep on truckin'" patch,
as well as the Rolling Stones tongue
As I circumnavigate the park, a stream of exciting narratives, comparable to those in the tv shows I watch at night, plays out in my imagination. I am protector, defender, and hero to the hopeless. Thus is my moral spirit or character also nurtured in this park.
Rehm is my park, and I grow in many ways in response to its seasonal invitations.
Awareness of the war
It is customary among the kids in the neighborhood to congregate in the park for games and playground fun, but often the summer afternoons and evenings find groups of seven to ten kids sitting on one of the front door stoops of the houses lining the park's boundary on Gunderson Avenue. Sometimes it's the front steps of the Turkl/Fencik family, which had a younger set of kids, but more often, it's the front steps of the Nevins, whose children range into the early 20s.
On those steps the kids "shoot the breeze," tell stories of what had happened, what could have happened, and what should happen in the future. Sometimes it was to pool our empties and coins for a trip to Golden Drugs on Roosevelt, or the Sinclair station at the corner of Ridgeland and Roosevelt, where we could redeem empty pop bottles and get some new ice-cold bottles of Pepsi or Coca-cola.
Other times, that evening's game of "Kick the Can," a hide-and-seek game done in the alley, gets planned. You would want at least six or more players for the game to be worthwhile, so we might need to round up a few more kids before game time, which ideally is when the sun is going down.
One day in August of 1968, I am on these steps when an older girl with long red hair–Ginnie, I think her name was–comes to the steps with a startling story. She and her friends have just gotten off the Congress subway. They were at the demonstrations protesting the Vietnam War held outside the Conrad Hilton hotel on Michigan Avenue. I don't understand much of what she says, but her story of the "pigs" beating kids' heads with "billy clubs" comes with a remarkable detail: she washed the bleeding head wounds and tear gas at the Buckingham Fountain, a landmark I recognized, having been there myself.
The way she tells the story, I am angry at the "pigs" and sympathetic to the "hippies" and "yippies" who are their victims. I don't yet understand that the protesters have gathered to urge an end to the war in Vietnam, which the US has been waging in earnest since 1964, or that the Democratic party, whose convention they have gathered for, is run by pro-war politicians like Hubert Humphrey and Richard J. Daley.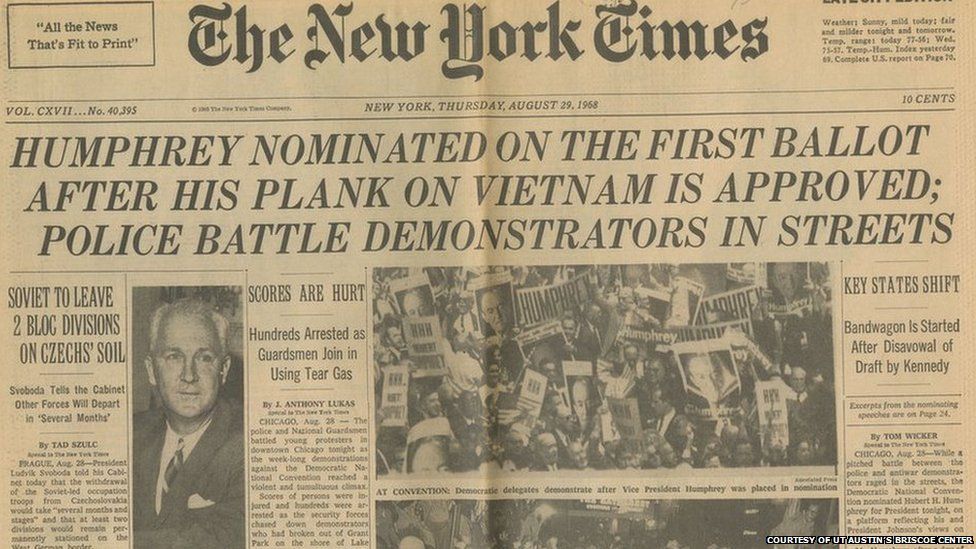 My vague understanding of the war has been conditioned by the nightly news on TV, where each week a body count graphic is displayed that has the silhouette of darker (enemy) and lighter (American) soldiers killed and wounded in the war. Each week, the numbers of dark bodies reassuringly outnumber the Americans.
I've also seen John Wayne's The Green Berets, a film very sympathetic to the continuation of the war, since the communist side are duplicitous and vicious, and the Americans and their South Vietnamese allies are all virtuous and brave.
It will be many more years before I learn about the war's injustices, but these contrary early impressions–of the courageous Marines and US allies combatting a tide of Godless communism on one side, and the innocent, peaceful victims of the Chicago police, along with their hummable, pleasant music on the other–will set up some cognitive dissonance that fascinates me in the years to come.